These savoury zucchini muffins are pure delight! For me, the best savoury muffins. The muffin whether sweet or savoury, are always a popular choice for a snack or brunch. Unlike cupcakes muffins don't have toppings on top, even though they can sometimes be filled and topped.
Soft and delicious savoury zucchini muffins
It's the height of zucchini season, the vegetable of summer, and time to enjoy it right through to autumn. For a change from large-scale savoury cakes, these savoury zucchini muffins will be a welcome appetizer.
It's always great to offer appetizers or amuse bouches , French term which literally translates to "mouth amuser"for an evening with friends. These savory zucchini and carrot muffins are perfect for an appetizer or Sunday brunch with family and friends. They're also perfect for break at work .
I often like to offer savoury muffins, mini pastillas or queen bites "french bouchées à la reine"around a dish like a roast or baked salmon.
I often make savory cakes which I serve sliced to accompany a salad, but I prefer the small muffin format. When I'm planning an appetizer or a birthday snack-party, I always make savory muffins, and the zucchini muffin is finished quickly because it's so good. There's never enough.
This savoury zucchini muffin takes less than 10 minutes to prepare and the result is just mouth-watering. You won't need a food processor or anything else to prepare them. All you need is a bowl, a whisk or spatula and a grater.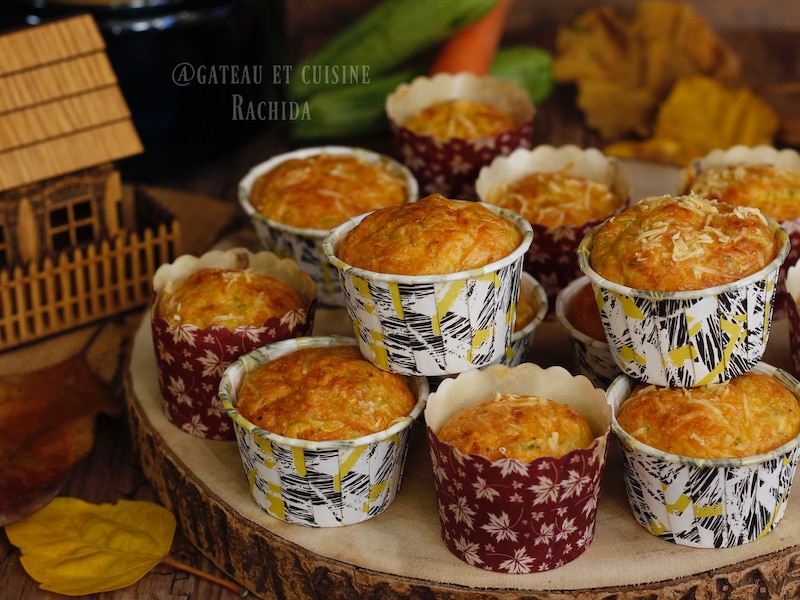 What you'll love about these savoury zucchini muffins
very simple preparation: They're quick and easy to prepare with just a few ingredients. The ingredients are probably already in your fridge.
Texture: They are very soft and spongy, and stay that way for at least a week in the refrigerator. Just reheat them and they'll be as fresh as before.
Storage: They freeze well for up to 6 months. their thawing must be the day before in the refrigerator or the same day at room temperature.
They can be served cold, warm or hot, according to taste. They're always delicious. Reheat in the microwave or in an oven preheated to 150° C. 300°F.
Adaptable : You can customise these muffins according to what you have in your fridge. The base remains the same, but you can vary the filling. Replace the Edam cheese with Parmesan, Emmental or Gouda. Add pitted green or black olives etc…
How to make these savoury zucchini and carrot muffins:
Note: Find the quantity of ingredients in the recipe card at the end of the article, which you can print. Below are the instructions, also available with visual images.
Get a bowl, a whisk and a spatula. No need for a food processor or mixer.
You can use paper baking trays, but if you don't have any, use a metal tray with muffin moulds.
Preheat oven.
Start by grating the carrot and zucchini onto a plate. If the zucchini releases water, do not wring it out. This water will make the muffin even fluffier.
Break the eggs into the bowl, add the liquid ingredients and mix. Add the cheese then salt and pepper to taste.
Then add the sifted flour and baking powder, followed by the grated vegetables. Mix well.
Fill the muffin liners 3/4 full and place a little grated cheese on top.
Bake in the preheated oven until the zucchini and carrot muffins are golden brown. A skewer poked into it should come out dry.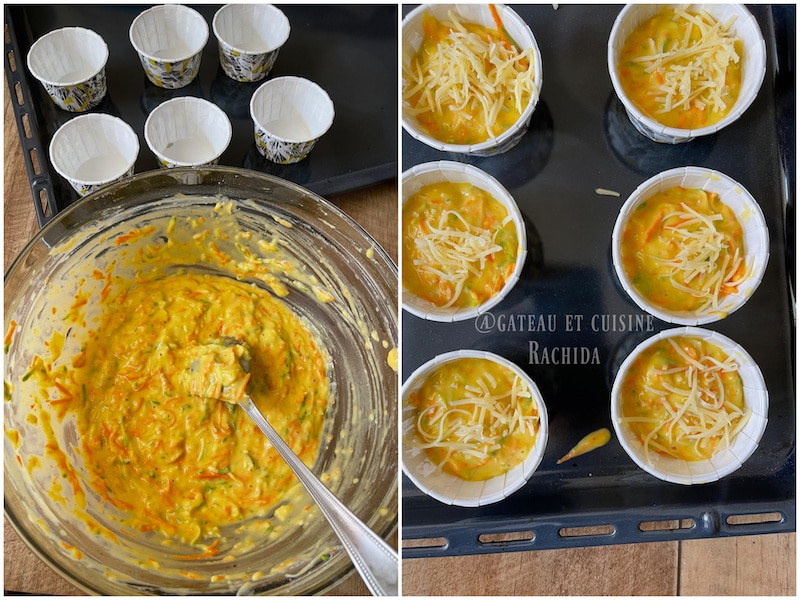 The first time I made this recipe, I made it as Sara gave it on her facebook page. Sara's delights . With this recipe I took part in the game proposed by the blogger recipe test group. Recipe makes 6 mini muffins.
I've made it several times since, doubling the ingredients. If you have foodies around, I recommend doubling the recipe. You will have the number of muffins below.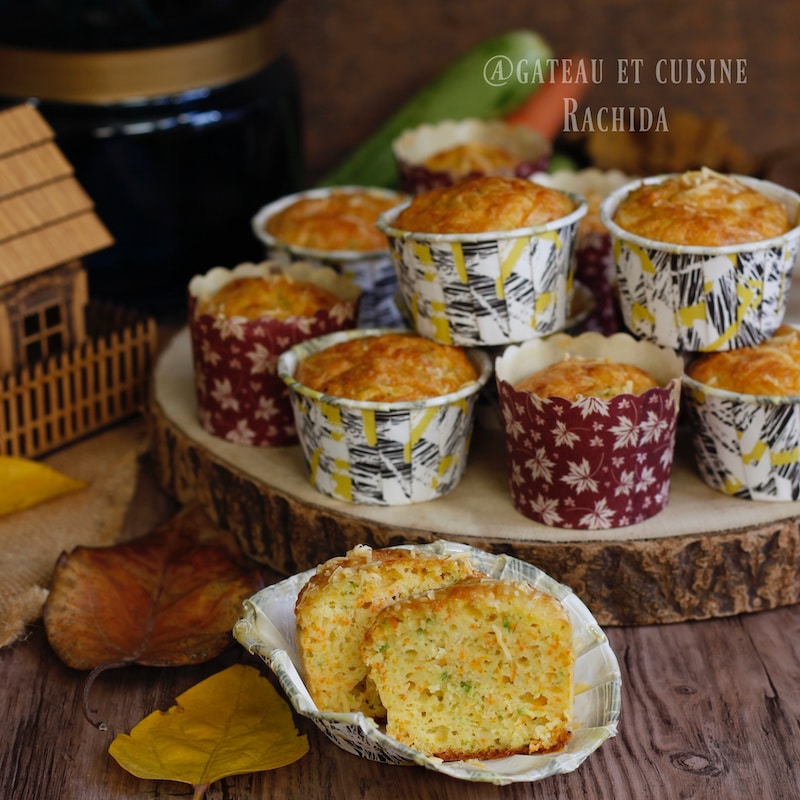 Savoury zucchini and carrot muffins-perfect recipe for an appetizer
Delicious savoury zucchini and carrot muffins, very easy to make. These savoury muffins take less than 10 minutes to prepare. A perfect recipe for appetizer.
Ingredients :
2

eggs

1

small carrot

1

small zucchini

50

ml

(1.7 oz )vegetable oil

20

ml

(0.7 oz )whole milk

50

g

(1.7 oz) grated Gruyère (a little more if you want to put it on top of the muffins)

75

g

(2.6 oz )flour

1

teaspoon

baking powder

3.5 g (0.12 oz)

salt and pepper
Instructions :
Preheat oven to 200°C (400°F )

Grate the zucchini without peeling it. Peel the carrot and grate it.

In a bowl, mix the eggs with the oil and milk.

Add grated cheese, salt and pepper to taste.

Add the sifted flour and baking powder and mix.

Add the grated zucchini and carrot and mix well.

Fill muffin paper cases 3/4 full.

Add a little grated cheese on top, but this is optional.

Bake for 30 minutes .

A skewer poked into the heart of the muffin should come out dry.

Serve warm, hot or cold.

If there are any left over, store the muffins in an airtight tin.
Thank you for your visit to my pastry blog of easy and foolproof recipes, and your comments.
You can also follow me on my youtube channel
lunch box challenge, cheese, easy recipe, quick recipe, Savoury recipes, Brunch, Aperitif