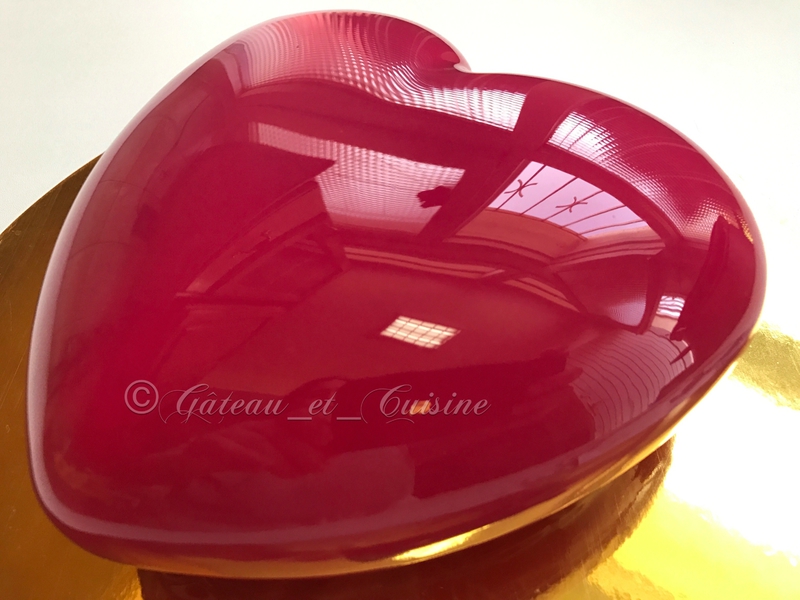 The best chocolate mirror glaze
The recipe for very shiny chocolate mirror glaze doesn't really require many ingredients or a lot of equipment. Mirror glaze may seem difficult to make for many of you, but I assure you it's not.
Just follow the tips, and you'll be able to create magnificent, ultra-shiny chocolate mirror glazes.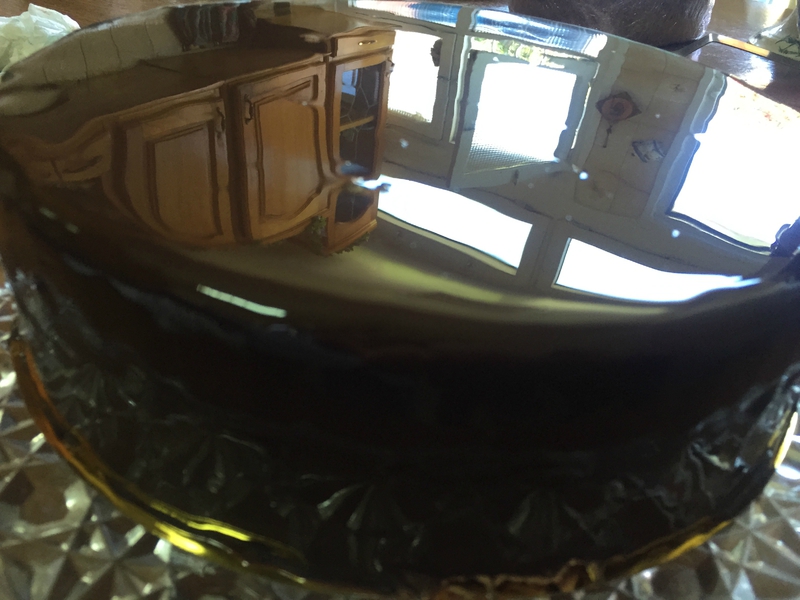 If you enjoy making entremets (french mousse cakes), it's essential to learn how to make a mirror glaze. It allows you to coat the cake with a thin layer of highly glossy glaze. It will make all your cakes look stunning and as incredible as those created by top chefs. If you think it will add extra sugar to your cake or if you've had a bad experience with a glaze layer completely detaching from the mousse cake.
I assure you that this well-crafted mirror glaze recipe will only enhance the entremet you've put so much effort into It covers the entremet with a thin film, making it very delicate and delightful on the palate
This is the recipe you need to sublimate your yule log , Christmas desserts and birthday cake
I am very proud of your achievements after following my very shiny mirror glaze video . I will try to explain all the points and secrets in this article for successfully achieving an ultra-shiny chocolate mirror glaze without air bubbles. I'd like to thank everyone who sends me photos of their creations.
Below, I'll share with you everything I've learned from making so many mirror glazes. If you have any questions, don't hesitate to ask me in the comments. This perfect and very shiny mirror glaze is from the French School Bellouet Conseil in Paris. It's the most popular glaze used by pastry chefs around the world.
What materials are needed for successful chocolate mirror glaze?
You'll need a standard thermometer with probe or infrared thermometer.
A simple thermometer costing less than 10 dollars will do the trick. I started making my glazes with a little thermometer that you can see in the video, and it never failed me.
You also have the Mastrad brand probe thermometer or the laser thermometer which are excellent but a little more expensive.
It's essential to have a kitchen scale because the recipe requires precision for an excellent result and to avoid ending up with a glaze that's either too runny or too rubbery. You can purchase a precision scale for small quantities, which will be useful for your baking needs.
To obtain a fine, smooth glaze with zero air bubbles – especially zero bubbles, the enemy of mirror glaze – you'll need an immersion blender
When I first started glazing, I used a basic immersion blender. It did the job well enough, but you had to mix for a long time and be careful not to move it too much. Then I purchased the one that works miracles for mirror glaze, a bubble exterminator as I like to call it, the immersion hand blender from the BAMIX brand.
There are several bamix ranges at different prices. You can choose one according to the frequency of use. If you only glaze occasionally, the entry-level range will suit you. I bought the Bamix Gastro 200. I'll tell you more about it in a future article.
For the rest of the equipment, nothing special, just a saucepan, a measuring glass or another tall and narrow container for blending, a rubber spatula, a preferably glass container with a lid, and a fine sieve.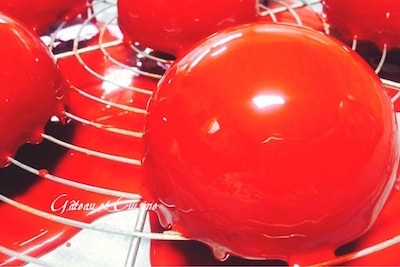 About the ingredients for the chocolate mirror glaze
Frequently asked questions:
1/ Can I use unsweetened condensed milk ?
Yes, except that you'll have to pour it at around 30°C ( 86°F) as it's much more fluid. This will lower the sugar content of the glaze a little for those who mind. However, I prefer it with sweetened condensed milk as it has much better coverage.
2/ Can sweetened condensed milk be replaced in this mirror glaze?
I've been asked this question lots of times, so I'll answer from experience. Yes, you can replace it with either unsweetened condensed milk or 30% fat heavy cream.
By the way, in my new mirror glaze below, there's no condensed milk or glucose and the result is perfect. However, the basic recipe with sweetened condensed milk is a little brighter.
Chocolate mirror glaze video
3/ Can glucose be replaced by something else or eliminated?
Yes, you can replace glucose with honey. Choose a honey that is fairly neutral in taste and color, such as acacia honey. For a glucose- and condensed-milk-free glaze, take a look at this glucose-free chocolate mirror glaze.
4/ Why leave the chocolate mirror glaze in the fridge overnight?
a. The stubborn bubbles will rise to the surface and you can get rid of them with a final round in the blender.
b. Since the mousse cake needs to be frozen and wait until the next day, I prefer to prepare my glaze in advance and leave it as well until the next day too.
c. Why change a method that has never disappointed me.
That said, it can be used on the same day with very good results.
Edit March 14, 2020: you can see my new glucose and condensed-milk-free mirror glaze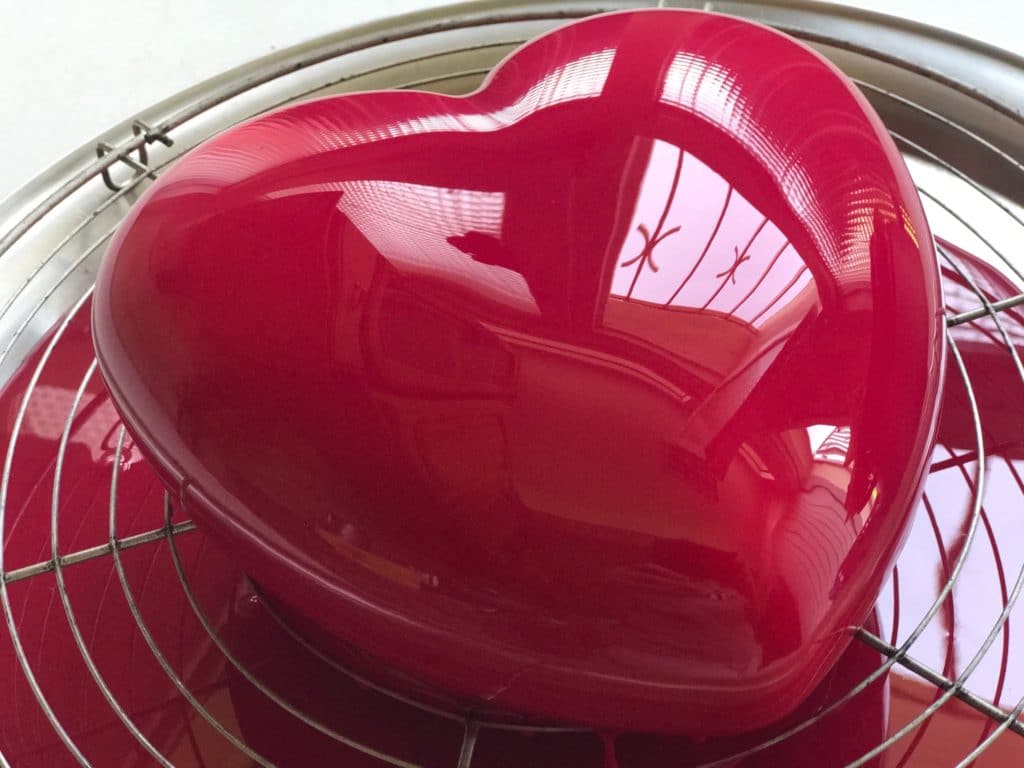 What you need to know on the use of gelatin
You've probably wondered how you can use 200-bloom gelatin sheets or 150-bloom sheets in the same recipe and get the same result?
It took me some time to understand because generally, the advice given is to do a conversion, which I don't recommend because it's much simpler to directly buy gelatin with the Bloom strength indicated in each recipe.
Gelatin 200 blooms is the most widely used. The name BLOOM is an indication of gelatin's gelling power. There is 200-bloom gelatin, also called GOLD, 180-bloom gelatin, called SILVER, and 150-bloom gelatin, called BRONZE.
As I was saying, using a 2 g (0.07 oz ) sheet at 200 blooms gives the same result as using a 3.4 g (0.11 oz) sheet at 150 blooms. I simply deduced that the manufacturers compensated for the difference in leaf bloom by their difference in weight. I've been using one or the other for a long time.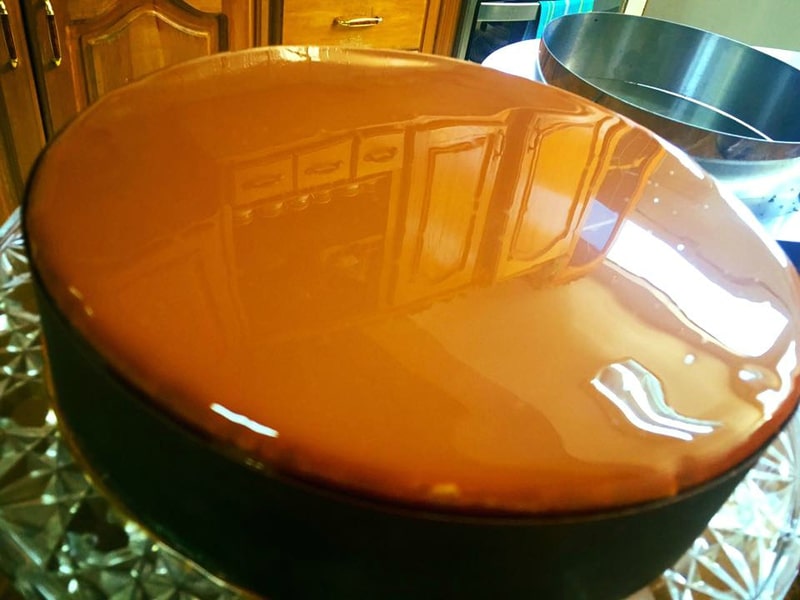 Very shiny chocolate mirror glaze
Find all the tips and tricks you need to successfully make the so shiny chocolate mirror glaze for your pastries "french entremets" and yule log.
Ingredients :
The recipe can cover a 20/22 cm (7.8/8.6 in) mousse cake or 10 small cakes of 7 cm (2.7 in) diameter.
75

g

(2.6 oz) water

150

g

(5.3 oz) glucose

150

g

(5.3 oz )granulated sugar

100

g

(3.5 oz) sweetened condensed milk or 30% fat heavy cream

150

g

(5.3 oz) white chocolate, milk chocolate or dark chocolate of your choice

(use a chocolate couverture chocolate (Cacao Barry or Valrhona are the best)

10

g

(0.35 oz) gelatin powder to 200 blooms to be rehydrated in 2.1 oz cold water.

or 5 sheets of 2 g to 200 blooms

5

g

of powdered or gel food coloring

Depending on the desired color intensity, 2 to 3 g may suffice. To be used with white chocolate for a colored mirror glaze
Instructions :
If you're using gelatin sheets, soak it in cold water to rehydrate it for 10 minutes before starting to prepare the glaze, then wring it out well and add it to the hot mixture.

If you're using powdered gelatin, rehydrate it in the quantity of cold water indicated, at least 15/20 min before starting (keep it refrigerated).

The result is what we call gelatin mass.

Place water, glucose and sugar in a saucepan. Bring to a boil until it reaches 103°C ( 217°F). Stir occasionally without splashing the sides. If this happens, clean sides with a damp brush.

Pour through a fine sieve over the condensed milk and coloring, then add the wrung-out gelatin if you've used sheets or gelatin mass.

You can add the food coloring after blending everything. This allows you to divide the mirror glaze into two or more parts, coloring each part one color.

Mix with a spatula and pour it over the chocolate in a tall and narrow measuring cup with a pouring spout. Wait for a minute and then mix it with the spatula.

Blend for 3/4 min with an immersion blender. This step must be carried out carefully to avoid creating air bubbles. Blend while holding the container at a slight angle. It must remain submerged. Take it out only to remove it at the end.

You'll see that the more you mix it, the brighter and more fluid it becomes.

Pour this mixture through a fine sieve into an airtight container, and place plastic wrap directly on the surface. Refrigerate overnight.

The next day, place in a saucepan and heat to 38°C/40°C (100°F/104°F) maximum in a water bath or microwave.

Remove from the water bath from time to time, stir and return to the bath or microwave. This ensures that the desired temperature is not exceeded and that everything melts well.

If it's almost melted at around 35°C/36°C (95°F/96.8°F), that's ideal, because by blend it you'll end up melting the stubborn clumps. So you won't have to wait as long to reach operating temperature.

Pour into a measuring spout (high and narrow) and blend to suck up all the air bubbles. The glaze becomes shiny and you can see yourself in it.

When the glaze reaches 33°C/34°C ( 91.4°F/93.2°F), remove your dessert from the freezer (freezing is mandatory to keep the glaze in place).

At this temperature, the glaze has a good texture that covers and flows nicely over the dessert. You can use the glaze at a slightly lower or slightly higher temperature depending on its texture.

Place the dessert on a wire rack. Run your hand over it or a paper towel to remove all traces of frost.

Pour your glaze over the dessert to cover it well. You can lightly run a spatula over the top.

Let the glaze run and as soon as it stops running, run 2 long spatulas under it.

Rub it against the grid with back and forth motions to trim any drips.

Move your dessert onto a serving platter or a golden cardboard base.

Defrost in the refrigerator for at least 6 hours.

If you are in a hurry, you can defrost it at room temperature.
Notes
Gelatin mass
1. Gelatin mass can be stored in the refrigerator for 2/3 days. Many recipes use only gelatin mass.To find out how many grams of gelatin you need, simply divide the gelatin mass by 7. For example, in my glaze recipe, I could have given you 70 g (2.5 oz) of gelatin mass. If you divide by 7, you'll know that you need 10 g (0.35 oz) of powdered or leaf gelatin.
2. I often use gelatin with 150 halal blooms, also using 5 sheets.
Each sheet weighs about 3.4 g (0.11 oz).
3. The use of colorant is mainly for colored glaze with white chocolate, but it can also be used with dark or milk chocolate. For example, reddish-black icing is obtained by adding a little red colorant to dark chocolate.
See this article Entremet with reddish-black mirror glaze
By adding a little orange coloring to milk chocolate, you can obtain a caramel color, see this article Hazelnut praline entremet
From now on, you'll be able to sublimate all your desserts with this ultra-shiny mirror glaze in dark, white or milk chocolate.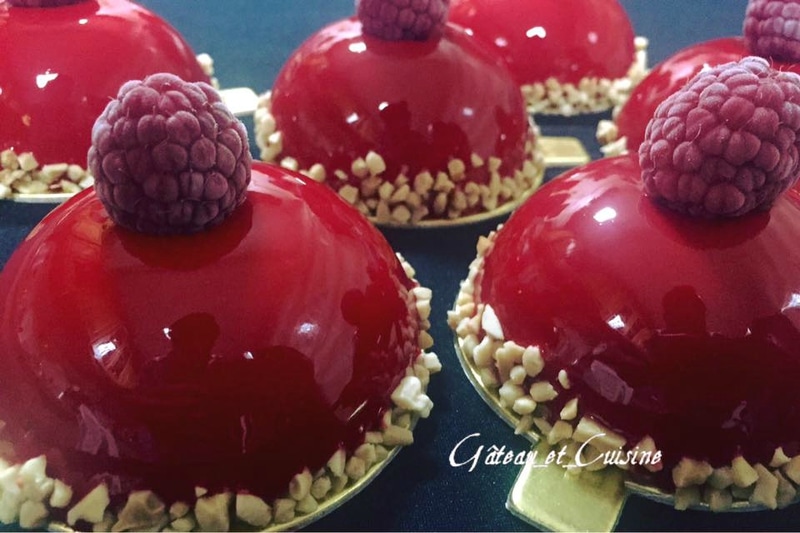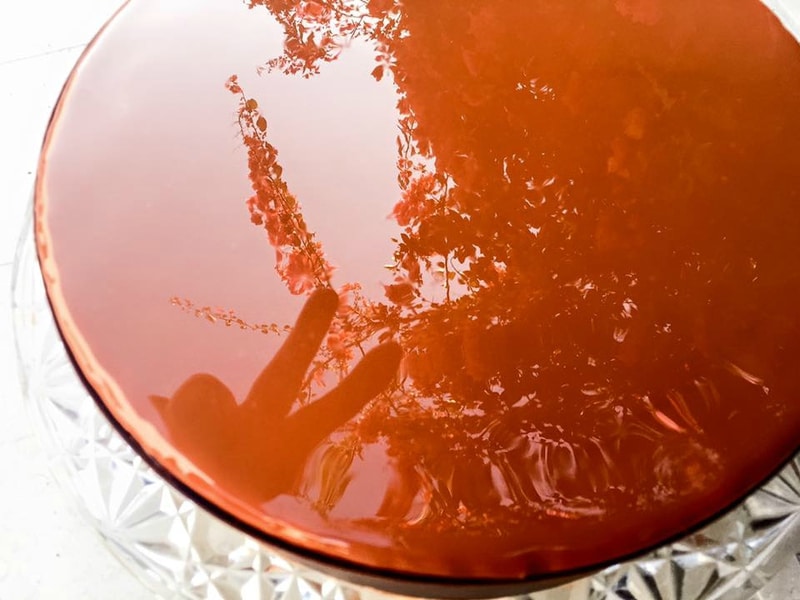 Thank you for your visit to my pastry blog of easy and foolproof recipes, and your comments.
pastry, entremets, chocolate, chocolate cake, dessert, birthday cake